Visa Free International Travel Routes (10 New Countries)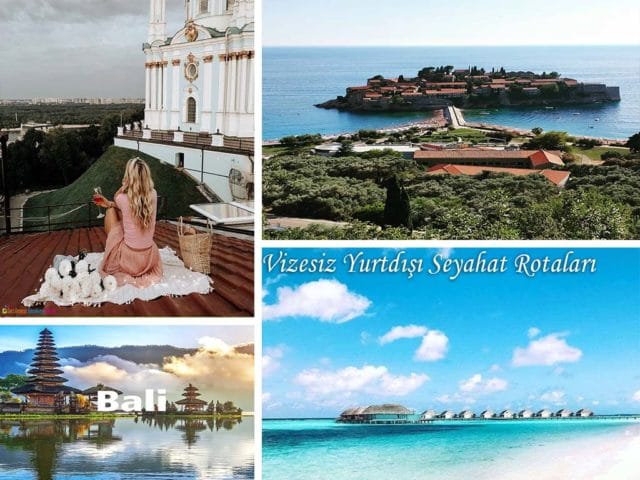 This time we wanted to create a list of visa-free international travel routes. The reason is; Euro took its head, travel plans to Europe are pushing the budgets. When the visa costs are included, most people have to cancel their travel plans abroad.
If you are one of those who say "I have no visa, I cannot go anywhere" and give up on their overseas plans; You can take a look at this list we have prepared for you and think again. Yes, you did not misunderstand; All countries mentioned in this list do not require a visa from Turkish citizens. Here is the most preferred, which has become more popular with the increase of the euro recently. visa-free travel routes abroad…
Visa Free Overseas Travel Routes
1- Ukraine
Ukraine, which is at the top of the list, is the most popular of recent years. visa-free abroad It is one of the travel destinations. Ukraine, which impresses with its historical identity, cultural beauties, unique architecture and streets that reflect the spirit of the city, is also cheap international travel routes between. also Ukraine travel guide You can have more detailed information about this place by reading our article.
While the currency valid in the country is Ukraine Hryvnia; An average of 1 Turkish Lira is 4.60 Ukrainian Hryvnia. (June 2019)
2- Georgia
Its nature is beautiful, economical and quite close. Here is a country where you can go without a visa or even just with a population paper: Georgia. Georgia, which we can strongly recommend to those who want to do nature tourism; The capital cities of Tbilisi and Batumi are ready to host you for a nice weekend.
3- Indonesia
Indonesia, one of the most popular countries of recent times, with both visa-free and one of the cheapest international travel routes, countries without a visa It ranks first in the list. Especially overseas honeymoon vacation Indonesia, which is one of the most popular routes for those who think, consists of thousands of islands and volcanoes, especially Bali Island. If you want to get to know a different culture, discover unique natural beauties and have a marvelous sea experience, you should add this Asian country where you can travel without a visa.
4- Macedonia
Macedonia, which is one of the first countries that come to mind when it comes to the Balkans geography, is one of the most preferred international travel routes of the last period thanks to its proximity to Turkish culture, historical partnership and geographical proximity as well as one of the visa-free countries. Macedonia, which is one of the ideal routes for those who do not have time, even on the weekend; it still carries traces from the Ottoman State. Starting from the capital Skopje, you can complete your trip on the shore of Lake Ohrid, continue through the Matka Canyon, one of the most beautiful natural wonders of the country, and watch traces of 'from us'.
5- Serbia
Countries without a visa Serbia, which is one of the most preferred countries especially among the young people; It is one of the routes of youth's pulse in Europe. Especially the capital, Belgrade, is on the list of cities that you should definitely see with its historical buildings, architecture and lively nightlife. Belgrade will be a good choice if you want to be close, as well as costly and have a nice overseas trip without dealing with a visa.
6- Philippines
Philippines, one of the most beautiful and diverse routes in the world, countries that do not require a visa It may be an ideal choice for those who are looking for a different alternative in the list. Philippines is still an untouched place for those seeking a tropical experience. Philippines is a country where they can go without hesitation both for those who want to spend a holiday abroad and for those who want to spend the winter cold in a warm climate.
7- Iran
You may have heard a lot about it negatively, but in our opinion, forget it all and add this country to your travel list with a courage. Iran, which will fascinate you with the beauty of historical buildings, impress with its cultural structure and hospitality of its people, and make you experience all the splendor of Eastern culture; It can be a good choice for those who are looking for a different culture among countries where you can go without a visa.
8- Lebanon
Here is an ambitious route that you can go without a visa, even on a weekend holiday, where you can travel and explore with certain points: Lebanon. Lebanon, which has been welcoming quite a lot of tourists recently thanks to its close proximity and colorful and different culture, is especially famous for its nightlife and entertainment in its capital, Beirut.
Another point that you will admire when you come here is of course the cuisine and the world-famous appetizers. Even tasting falafel, babagannuş, hummus, taboos and many more appetizers we can not name can be a great experience for gourmets.
9- Maldives
Let's come to one of the most popular honeymoon routes of recent times. Maldives with palm islands defined as dreamy, white beaches and clean sea where you can see thousands of shades of blue countries without a visa Popular choice among.
However, you will have to take a little expensive holiday for the Maldives because the hotel you will be staying on will probably be on an island, and this island will be small enough to travel in just 20 minutes. Transportation between the islands is difficult and extra things to do in hotels are a bit expensive. If the money you allocate for the holiday is a bit much, you can have a dreamy holiday experience in the Maldives.
10- Montenegro
Montenegro is one of the Balkan countries, which is one of the most preferred routes among Turkish tourists recently traveling abroad. If you want to travel in a historical city, swim in a magnificent sea and be sated with green, this country is for you! also To our Montenegro travel guide we strongly recommend that you take a look.